GROCERY STORE TOURS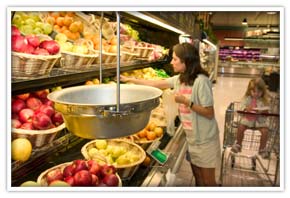 Pam will take you on a whirlwind tour of your local grocery store! Browse up and down the aisles and ask Pam all the questions you have wanted to ask a nutrition professional!
Some possible discussion points:
Understanding food labels
Understanding the criteria for a food to be considered a healthy choice
Shopping for specific medical conditions or allergies/sensitivities
Research-based information about food products (such as organic, soy, high fiber, foods with active cultures, spreads/fat/oils, forms of food sweeteners, etc.)
Who should sign up?
Individuals or groups – put together a bunch of friends or colleagues!
Food-related support groups or programs (celiac disease, weight loss, cardiac rehab, etc.)
Parents who shop for their family
Persons with specific medical conditions that require special food purchases
Persons looking for guidance in reading food labels
Grocery stores, supermarkets, health food stores, local markets, etc. who are looking to education the consumer about their products