WORKSITE WELLNESS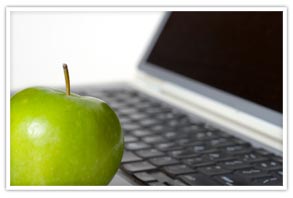 More and more businesses and companies are realizing that they can cut health care costs and improve employee satisfaction/motivation/energy levels (which can increase work output) by improving the overall health of their employees.
Here are some ways Pam can help your business:
Lunch and Learns – Lunchtime learning sessions where written and verbal nutrition information is provided and employee questions are answered
Workshops – Custom designed for the target audience
Nutrition E-Newsletter – Tidbits of nutrition information and FAQ's generated by employee questions and topics of interest
Weekly Email – Nutrition/Exercise Tips
Written material on assorted nutrition topics – For employee handouts, bulletin boards, posters, fliers, etc.
Individual Nutrition Consultations – May be covered under employee insurance
Healthy Cooking Classes – Done in the company's cafeteria kitchen if available
Cafeteria Staff Consultation – Meeting with the company's cafeteria staff to improve offerings for better health
Other nutrition-related activities upon request
IDEAS FOR POSSIBLE LUNCH AND LEARN TOPICS
"Eating on the Run" – Healthy eating on the fast track. Whether this means a busy day in the office or on the road, you do not have to compromise your health!
"Addressing Rising Cholesterol" – What do the numbers mean and how to do something about it.
"Healthy Weight Loss Without Deprivation" – Learn to live with food, not without it. Understand what your body needs and how to provide it while experiencing weight loss.
"Bringing Down the Blood Pressure" – Diet and exercise are key players. Learn what you can do besides taking medication.
"Women's Health Issues" – Discussion of nutrition and exercise specific to women's health and life stage issues.
"Eating for Physical Activity" – Hints for improving energy levels and providing optimal fuel for your active body.
"Nutrition Check-up" – Interactive session where participants complete worksheets regarding their personal eating habits and needs, then generate personal goals.