SPORTS NUTRITION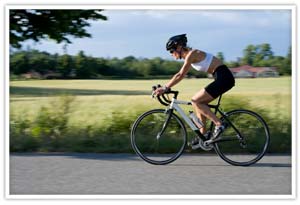 Trying to improve athletic performance?
Work with a qualified sports nutrition professional who is Board Certified as a Specialist in Sports Dietetics by the American Dietetic Association!
Whether you are an athlete or a professional working with athletes, this information can help to maximize workouts/training and lead towards personal-best performance.
SERVICES AVAILABLE:
Individual sports nutrition counseling
Group/team sports/sports camp nutrition presentations
Information for coaches, trainers, or other exercise professionals
Handout materials on sports nutrition and related topics
Sports nutrition newsletters
Articles for organization publications
Customized sports nutrition packages
PAST PRESENTATION TOPICS HAVE INCLUDED:
Energy systems
Hydration
General nutrient needs of athletes
Sport-specific nutrition information
Maximizing lean muscle mass
Guidelines for weight gain/loss
Pre- and post-exercise eating
Fitting healthy eating into your workout schedule
Eating on the run
Nutrition for vegetarian athletes
Eating for multiple event days
Special needs of female athletes
The latest on sports supplements
Nutrition for the growing athlete
Sports nutrition for older athletes
Healthy meal/snack ideas
Sports nutrition for various medical conditions
Eating disorders and body image issues
Other topics available upon request