PREGNANCY NUTRITION
Preparing for Conception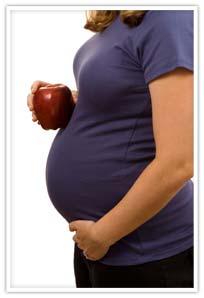 Is it time to bring that little bundle of joy into your life? Eating well before pregnancy means your body has good nutrient stores to support you and your baby during the pregnancy. Before pregnancy is also a good time to make any body weight changes that would allow you to have a safer, healthier nine months and delivery. It is also a chance to develop a healthy pattern of eating for the months and years ahead.
Pam can provide you with nutrition information and help you create a plan of action to get you ready for the demands of pregnancy.
Pregnancy/Breastfeeding
What better gift can you give your child than a healthy start to life! How and what you eat during pregnancy and breastfeeding can have a big impact on the short and long term health of your child. Proper eating can also reduce your risk of morning sickness and maximize your energy levels.
Pam can share with you what special needs you have nutritionally during pregnancy and breastfeeding and ways to make sure you are meeting these needs. She can also alert you as to potential food safety issues. As applicable, she can address the special needs of women carrying multiples, provide guidance for women with various medical issues (such as gestational diabetes, hypertension, etc.), and assist the vegetarian mom achieve maximal health for her and her baby.
Mom's First Year After Delivery
Your body has been through a lot for the past nine months! Now is the time to eat well to recover any depleted nutrient stores and to move towards or maintain a healthy body weight while caring for an infant (and maybe other young children as well!).
Pam can provide helpful hints to move you towards your best personal health, body weight, and fitness, despite a busier lifestyle – plus ideas to maximize your energy levels! She can also address emotional eating issues that some moms experience after delivery.
Note: Besides individual nutrition consultations, group classes are offered periodically. Contact Pam for an individual appointment or for a schedule of upcoming classes.